I've noticed if you set attract mode on a stock JSW snapshot (even after fixing the attic bug) in two places ie 59900 and 59901 it can still corrupt the game.
The reason seems to be because the attact mode includes screen 61 (or maybe 62 or 63) , given the 'content' of these screens its likely causing some very odd effects as expected. 62 and 63 contain what appears to be invalid guardian data.
Interestingly if you attempt empty these rooms and guardians it does not always appear to work.
To test this:
Open a JSW snapshot with the appropriate bug fixes applied for the attic. Just use JSWED to set attract mode to on and nothing else. Save and now run this in your emulator.
To save time, set it at a high speed. Allow it to cycle through all the screens. You'll notice that it does show 61 it appears. Once its been through them, start the game, you'll see something similar to this: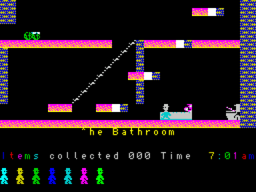 Thoughts ?