As title ( ! )
I found this amongst my collection. Its actually dated 19th Jan 1995 in my files but that does not really mean a great deal.
Offers some features it seems. note the game is not properly patched for safety (the four bugs) though.
Example1. Keep Objects
k_o..z80 28.28KB 82 downloads
This is very strange.
Collect any objects you like (suggest you grab 3 or more) then kill Willy off by usual means. Now restart the game. you do not need to re-collect those objects you collected.
Example2. Keep Room
k_r.z80 28.28KB 81 downloads
Safe start ? Best way to explain this. Head to the First Landing and climb down the stairs a little bit, now turn around and jump up, aim to hit the guardian in Top Landing when Willy 'appears' in the room above to cause an IDS. When the game finishes, restart it and you'll start in the room Willy died in, aka Top Landing.
Example3. No Instant Death
no_i_d.z80 28.27KB 88 downloads
Best way to show this one: Go to Ballroom West on the right hand side of the screen. Now jump right so you'd enter the screen mid-air and normally it would be an IDS as you'd repeatedly hit the vertical guardian. This time you lose one life (on hitting it) then you restart safely on the left of Ballroom East.
Example4. All
ko_kr_nid.z80 28.27KB 81 downloads
This is just all three options above selected.
Here is a 'menu' screenshot: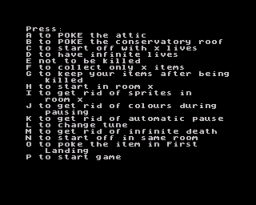 Finally here is the file, its a .z80 unfortunately I do not have tape files. Note from looking at it, even without any options selected its semi pre-patched to some degree. Does not display properly (basic listing) in Spin, OK in Spectaculator. Start it with GOTO 15 if needed (attached file is already running and is 'as found')
I'm aware 'safe start' is possible in JSWED though but the others are a bit of a mystery.