Just something I was toying with yesterday but did not get time to post it.
Various takes on the existing 'Manic Miner' flashing loading screen really. You'll need to click the pics to see the flashing effect, I've purposely saved them as animated .gif files to allow this.
1. Logo spaced. Simply there is a lot less "overlap" between the words. Available as full (complete attribute block 768 bytes) or as minimum required (379 bytes)
Pics of both:
And their downloads, both include a Basic loader for convenience:
logo_spaced_full.tzx 849bytes 81 downloads
logo_spaced_minimum.tzx 460bytes 81 downloads
2. Logo split. Not too dissimilar to the above however the spacing between the two words is a lot larger. Again, available as full (768 bytes) or minimum (443 bytes)
Pics:
Files:
logo_split_full.tzx 849bytes 77 downloads
logo_split_minimum.tzx 524bytes 74 downloads
3. Logo static. The two words neatly spaced out, no flashing effect at all. As above, available as full (768 bytes) or minimum (507 bytes)
Pics:
Files:
logo_static_full.tzx 849bytes 82 downloads
logo_static_minimum.tzx 588bytes 81 downloads
4. In Basic. More for fun than anything else, the original logo but in Basic Data statements. Each data line is 32 bytes (one line) long for convenience. Its only minimum as its easy to either have a black screen or simply add another line of zeros to it. Having said that the original actually has black bright (possibly flash) paper where as this does not but its invisible anyway.
Pics: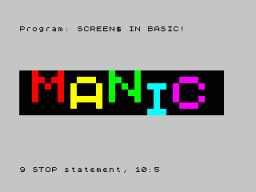 File:
logo_in_basic.tzx 2.06KB 78 downloads
Enjoy ?