I did have this quite a while ago but was not really able to get it to work properly. To cut a long story short one emulator would not run under 32bit and the other did not have a pause option. Neither would take screenshots either under anything after Win98 and I did not really appreciate trying to manually do a lot of screen grabs and then edit them all.
There are two versions of Manic Miner although they are essentially the same in the 'game' the difference appears to be the title message (in French in one) and that version also has some sprite corruption present although that may fall down to the emulator itself. I ended up using MESS to do this in the end.
I'm not sure how official each version was. One is credited to Matt Smith (this is the one in French with the bugs) and the other also mentions his name (and mentions © Software Projects too) but explains the conversion was done by N.Hawaworth. This is the 'bug free' version it seems.
The game features 32 levels instead of the more usual 20. The "normal" screens are all present however.
The game itself plays quite well, although there is a lack of a great number of colours and the items flicker on/off rather than colour cycle but it does play very well generally.
On with the screenshots, please bear in mind the actual 'quality' of these is higher than it appears due to me having to enlarge them to a suitable size for viewing, the 'keep aspect ratio' did not quite work it seems:
Keypad: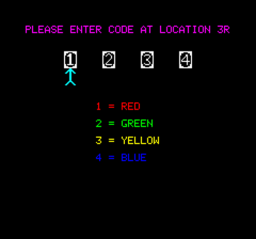 Title screen:
Game over:
The levels: