Although there is a topic partly covering this I wanted to expand on it a bit more.
Tape content: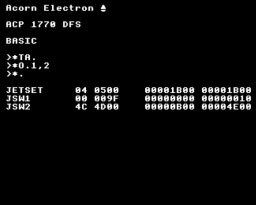 Disc (ADFS) content: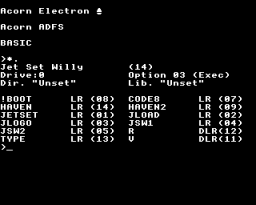 Disc (DFS) content:
Loader Title: Disc version the same but minus the tape progress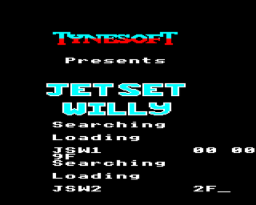 Loading Screen: Only present on disc version as it would take an age to load from tape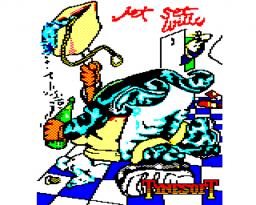 Start screen: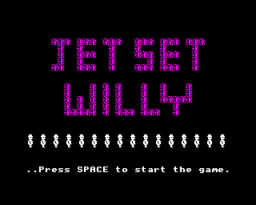 The scrolly message reads:
Jetset Willy was written for the Electron by Chris Robson......

Jet Set Willy was prepared by Tynesoft under licence from Software Projects and is copyright to Software Projects......

You must guide Willy to collect all the items around the house before midnight so that Maria will let you go to bed.......

Press SPACE to start the game
Game Over:
Typo's in two rooms: It could be said one of them is actually a comment about memory shortage (nomem!) though.
The following changes were noted:
1. There is no arrow in The Beach
2. Jumping up a 'no exit' rope results in you appearing at the bottom of that screen again
3. The 'exit to Ballroom' in Rescue is present and it works in Watch Tower too (this also happens on the BBC version)
4. The time starts at 7pm and advances very very slowly
5. Forgotten Abbey is a lot more difficult to get past as the bottom row of guardian movement patterns are different.
6. As can be seen, the game is monochrome although at least there is a decent choice of colour applied.
7. The Swimming Pool 'water' is invisible although as can be see from my screenshot you can walk on it, but you cannot jump up it you have to exit via the ramp on the right first.
Onwards with (all!) the game screens: