Although yes we have a topic with this partly covered, I did play though this completely with just infinite lives to assist and saving a snapshot every now and then when I had an 'accident'
Unfortunately I did not think to take a screenshot repeatedly so you only see each screen as I initially enter it not on my return. I did have a rather convoluted way around the house but it was quite fun to do this...
I noted the following:
1. Jumping off The Watch Tower takes you to the Off Licence (half expected that)
2. Jumping out of the top of Rescue Esmerelda also takes you to the Off Licence
3. As as aside to (2) in the BBC Micro version jumping out of the top of either of these rooms takes you to the Ballroom
4. Jumping from the top of Dr Jones as expected takes you to Quirkafleeg however the Amstrad version has what could be described as 'safe start' so you are put back in Dr Jones after the 'accident' with the fire cells at the bottom of Quirkafleeg.
5. There is a high score table built in showing the number of objects collected (see below for a pic)
6. Falling (safely) from Rescue Esmerelda takes you to the Emergency Generator which is correct and follows the house layout logically.
7. There is no object in The Swimming Pool. As another aside the BBC Micro version 'auto collects' this the same as the Spectrum version but that appears to be purposely coded in rather than related to air colours.
8. The Beach object is a single object.
The scrolling message in this version reads:
© 1985 SOFTWARE PROJECTS . . .

- JET SET WILLY - . . . . . . .

Control keys are :- LEFT=Q,E,T,U,O; RIGHT=W,R,Y,I,P; JUMP=<SHIFT> TO <SHIFT>(bottom row) + <SPACE>; PAUSE=A to H; TUNE ON/OFF=J to <ENTER>; Also use cursor keys for LEFT/RIGHT, up arrow or <COPY> to JUMP; Supports Joysticks on port#0; Press <ESC> to ABORT the game! . . . . .
original concept by Mathew-JET-SET-Smith. . . . . . . . . . . . . .

OH by the way. If you press H while this message is going past .It will take you back to the high score table. . . . .
All the best to T.K..

P.S. don't miss the boat in THE - FINAL - FRONTIER. . . . . . . . . .
Time for some pics...
Loading Screen: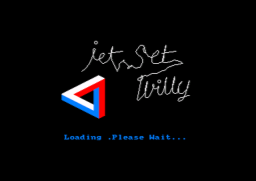 Title Screen: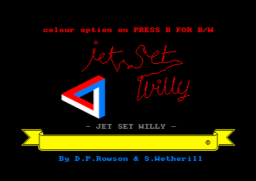 Hi-Score Table: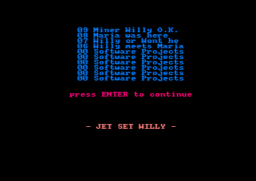 Game Over:
The ending sequence:
Rooms as I progressed: