Well, maybe. I did wonder if this was intentional due to perhaps 'contrast' (chr 9) but it does not seem that likely.
The attributes for the code entry screen are loaded from 39808 to 22784, this means that the attributes 'appear' AT 8,0; initially and 128 bytes is 4 lines 'length' so that's 8,9,10 and 11.
Seen in 'raw' form they look like this: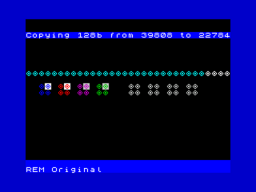 If you look key graphics 3 (magenta) and 4 (green) are non-bright whereas 1 and 2 are bright. This is quite easily seen with the above screenshot.
Unfortunately, setting just the top right attribute to be bright for those two which would of been just two POKES's made them stick out like, well a sore thumb. It was necessary to set all eight attribute blocks to be bright to fix this. Here is the same picture with them 'fixed'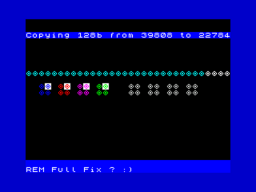 Finally here is it 'in action' where you can see. It may be better to compare this with an original screenshot though for comparison: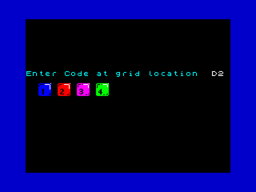 To fix this:
Change key 3 gfx to BRIGHT 1:
POKE 39880,67 : POKE 39881,123 : POKE 39912,67 : POKE 39913,67
Change key 4 gfx to BRIGHT 1:
POKE 39883,68 : POKE 39884,124 : POKE 39915,68 : POKE 39916,68
For reference purposes, the above pokes are in the usual left to right order:
"A" Top left block (magenta or green ink with black paper)
"B" Top right block (magenta or green ink with white paper)
"C" Lower left block (magenta or green ink with black paper)
"D" Lower right block (magenta or green ink with black paper)
AB
CD
Attribute values:
003 = Magenta INK / Black PAPER / Bright OFF (default)
067 = Magenta INK / Black PAPER / Bright ON (new)
004 = Green INK / Black PAPER / Bright OFF (default)
068 = Green INK / Black PAPER / Bright ON (new)
059 = Magenta INK / White PAPER / Bright OFF (default)
123 = Magenta INK / White PAPER / Bright ON (new)
060 = Green INK / White PAPER / Bright OFF (default)
124 = Green INK / White PAPER / Bright ON (new)