Colour Clash Attack


Take a look at this listing from the Spectrum Basic Programming manual. It draws some colourful lines however the effects of the colour clash (partly it was written to demo this 'effect' I think) are quickly shown...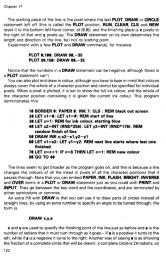 Lets take a look of it "in action" , video's are < 40 seconds so quick to watch.


basic_gfx_1.mp4 4.2MB 8 downloads

Now lets take a look again, this time with a small tweak...


basic_gfx_2.mp4 4.11MB 8 downloads