I was looking at this recently with some new and interesting thoughts... First of all lets take a look at the standard 'tree' on the Spectrum: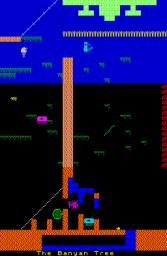 The usual fault here is the earth cell on the right, preventing Willy from climbing the tree.
However lets take an alternative view of this, what if that cell was intentional ? As it stands you cannot climb the tree even with the 'head height' concern, from either side. However if you add another earth cell thus: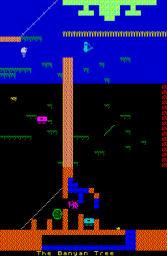 You *can* now climb the tree from the left side. It is very difficult to time it correctly however the jump between the platforms means he hits his head on the new earth cell, resulting in him being 'in' the water cells rather than just falling down. Its possible, I've done it.
Another scenario although this one is very unlikely, how about adding some water cells a bit higher up ? This way he can climb from the left again and pass through to the right...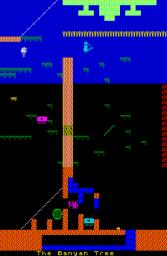 As I say I think that is very unlikely.
A more likely plausible case would be to question why there are currently 'useless' platforms on the left side halfway up. Lets take another scenario instead, assuming the 'single earth cell' in the tree is correct how about just adding a couple of water cell platforms on the left thus: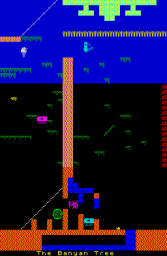 Now, Willy can climb the tree but only from the Orangery. This seems reasonably plausible as its slightly tricky to reach that area anyway. It also means the ramp on the lower left is more a 'preview of the tree' than anything else. It does mean the right hand platforms are redundant however, but in the same way the left ones are currently.
Food for thought (depending on what fruit the tree provides, assuming it is a fruit tree)
As a bit of amusement here is a large picture of the tree from a few different platforms. I've only covered the major versions and some variants look so similar (for example the Einstein version looks identical to the Spectrum completely) I left them out. Bear in mind the Spectrum version was obviously first so it was logical they used the same layout, however given the 'hidden / unreachable object' issue as well as things like the 'Conservatory Roof vs fire cell' item, it does not mean what we 'see today' is how it really was intended to be...

No prizes for identifying each tree variant though. Finally here are the individual pics from that 'combi' above as it may be easier to view them this way: