Posted 31 December 2017 - 11:46 AM
Hi is it possible to get below the stairs and collect the item and exit to another room. please.
---
Posted 31 December 2017 - 02:13 PM
Hi,
I'm attaching both a map and a 'walkthrough' (an .rzx file that should play back in most emulators) , played by our contributor Danny:
jetsetwillyIII.rzx 208.26KB 69 downloads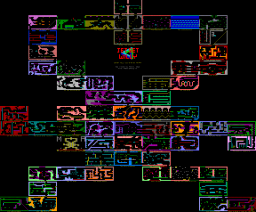 Changing order to chaos since 1984
---
Posted 31 December 2017 - 07:10 PM
I believe that it is also possible to watch my walkthrough directly on YouTube, if someone doesn't want to bother with using an emulator.
There are also walkthroughs on YouTube of other games called 'Jet Set Willy 3' (on other platforms). Have a look here, or here, or here.
---
---
0 user(s) are reading this topic
0 members, 0 guests, 0 anonymous users