I had chance to play this Sunday evening, once I'd figured out the very strange way disk images are accepted in Steem (its not explained that well in the emulator readme, or I missed it!) and got a suitable TOS for it as the higher version one did not play nice.
, none of that is related to the game however.
The game plays quite nicely, it has the feel of the SamCoupe version to it in that the movement is more fluid than the Amstrad/Spectrum versions. I sent you a PM reply about the text (you have that already)
The sound is very good and I like the effects of the Portal too.
The air supply decrements quite slowly although this may or may not be a concern.
There are some interesting novelties too such as Willy dancing on the title page with his erm 'partner' as well as the arcade style left/right to enter a name into a high score table. A+ for this addition! The cavern design particularly the 'pac man' wall effect is also excellent.
The only real concern I had in my short playtesting time (so far) was the boot takes a while to initially start to descend on the Game Over page.
Summary is this is so far an excellent piece of work imo.
I'm attaching a few screenshots too!
Finally a few screenshots I took 'mid play'
Proof in the pudding as they say with my Hi-Score, unfortunately emulation did not pause in Eugene so I lost a life taking a screenshot!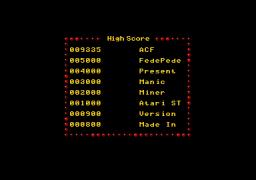 Edited by Spider, 13 November 2018 - 04:07 PM.