The C16 (tape) version. It takes about seven minutes to load.
The following things were immediately noted:
1. There is no loading screen, just a screen showing you the keys, then the game loads. I guess this is the loading screen.
2. There is very little sound, a tiny noise when collecting an object or upon loss of life.
3. The colours are not too distant to the C64 version (although there are less of them)
4. There is no 'boot' game over message, upon loss of the last life the game just instantly restarts in the Central Cavern.
On with a few pictures
although I only managed a few screens unfortunately:
Loading Screen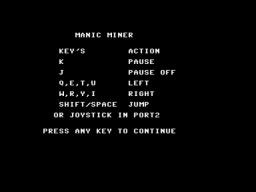 In Game Screens: