Similar to the C16 version of Manic Miner in colours etc. Again there is no loading screen. Game takes about seven minutes to load.
The mansion is quite restricted, for instance there is no Cold Store / Nightmare Room and the Kitchen goes to the Back Stariway and nothing more it seems.
The East Wall appears similar too, East Wall base appears as high as you can go.
Interestingly there appears to be no Toilet and no Maria, jumping onto the bed results in a loss of life, expected as not all objects were collected at that stage.
Again, there's no in game tune and the title screen is just the name changing colours. There is however a 'Game Over' boot sequence.
Onwards with a few pictures:
Title Screen: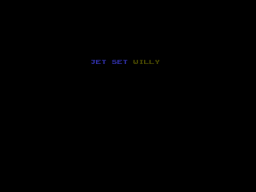 In Game Screens: