Here's a simple loading screen I've just put together.
It combines the logo from the title page with a suitable copyright message (very similar to the Software Projects version of Manic Miner)
The code is a simple basic loader, with a highly compressed screen (reduced to 1362 bytes from 6912) and a standard LOAD for the game code.
The loader does *not* contain the game code.
The loader is extremely simple, the Basic is called "Jetset", the screen is called "Jetset1" and it expects the game code to be called "Jetset2"
I decided to move the 'beeps' to after the screen was shown, seems somehow better ( ? ) here.
A small pause was introduced at the end to allow those using real disk hardware (if it was put onto disk) to allow the drive a couple of seconds to stop.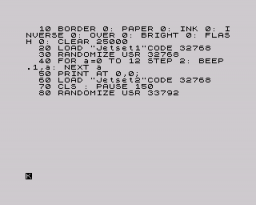 Here is the tape structure:

And here is what it looks like: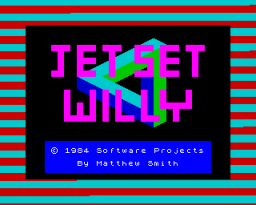 Loader .tap file (Loader only, no game code)
NewJetsetPic.zip 1.07KB 143 downloads