Thank you for the clarification.
OK take a quick look at this following your suggestion, I've positioned Willy out of the way for extra clarity: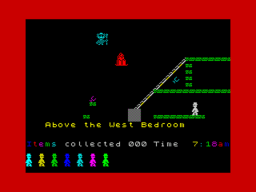 This does make perfect sense and I can see what you mean, to coin a phrase "a picture says a thousand words"
Also you're 100% correct you *can* escape the conveyor without dying if you time your jump right you can (once you're aware of it) relatively easily escape via a jump.
Now, there's a slight issue with positioning this object here. Willy cannot climb down again without losing a life. See pics:
Willy in place to collect object after climbing: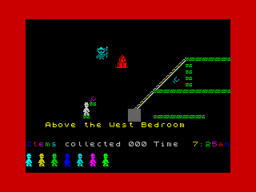 The only way 'down' is right, moving left will result in an infinite death as you'll fall through the screen to the Back Door.
Willy moves right to land on the platform below: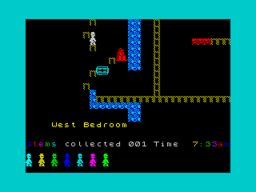 All looks OK, but the 'issue' here is a jump to the left is certain death, a jump to the right results in him exiting the screen at the top, and when he falls, he falls straight onto the razor blade nasty as its start position is too high. For necessity in the pics I've had to immunize him so you can see: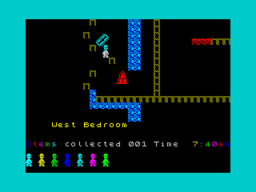 The conclusion I guess is its quite possible but you must then jump right onto the roof ramp/slope and not attempt to climb down again.