Following on from the JSW1 for the Electron topic here, it is time for JSW2

Again this was played (no cheats only snapshots taken to allow this) to show every screen.

It should be noted (at least as far as I'm aware) that JSW2 uses Mode4 which takes 10K , leaving 22K available but this is going to not all be free for the game. Its quite reasonable to cram so much into this.

The mansion is very much cut down, although most of the 'space' rooms are present with the exceptions of Secret Passage. The mansion itself does not have any ballrooms or upper levels really, you may wish to examine the map posted here too.

Other things I noted were the fact that Stardrive was very easy (its very very difficult on the Spectrum version) and the Wine Cellar does not have a conveyor exit, there's just an exit.

One typo was noticed "dinkingvater" although to be fair I think this was intentional as on some versions its purposely labelled "DrinkingVater"

'Maria' sprite is used to replace quite a few others in the game and there are also some Acorn specific ones present too it seems along with Ethel The Aardvark (top exit Sewer, bottom exit Wine Cellar) and Fallout Shelter (top exit Rocket Room)
Although the 'Trip Switch' is present in a fashion, there is no Beach or Yacht to take advantage of this.
The 'Rigor Mortis' screen the guardians do not come to life / animate upon collecting the items present, the BBC version is the same in this regard from what I recall though. The Spectrum and Amstrad ones do, but I'm not 100% if the CBM version does or not, its possible this 'extra' was added to the Amstrad version which was ported 'back across' to the Spectrum which would explain why its not in other versions.

I can say I think its the most difficult version to play, it plays very nicely but its very easy to get into an IDS due to what appears the sprites starting where they left off and Willy does not have a second of 'free movement' to do anything about it.
The 'scrolly message' reads:
Jetset Willy II was written by Chris Robson.....

Jet Set Willy II was prepared by Tynesoft under licence from Software Projects and is copyright to Software Projects.....

You must guide Willy to collect all the items around the house before midnight so that Maria will let him go to bed......

Press SPACE to start the game
Tape Content:
Disc (DFS) content: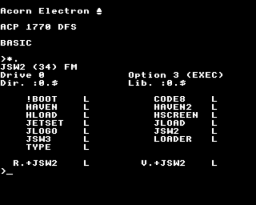 Loader Title: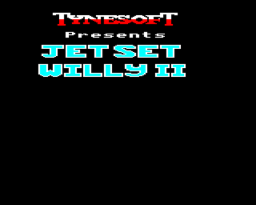 Loading Screen: (Only present on disc versions)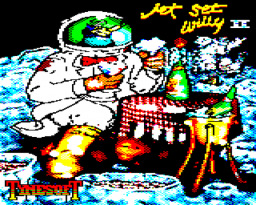 Start Screen: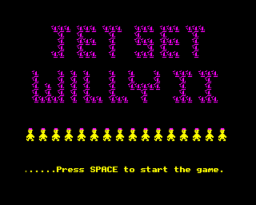 DinkingVater: Potential Typo:
Onwards with (all!) the game screens: