Although we have a topic covering JSW1 for the BBC Micro here and the electron 'cut down' version of JSW2 covered here I felt we needed a full selection of screenshots from this too.

This is the 'full' disc version that closely mimics the Amstrad and Spectrum versions. The 'cut down' version is here
On some machines it will try to load it all into sideways ram, on others each 'section' of the mansion is loaded in as you play.
As far as I can determine the 'full load in one go' only works on the Master series as there's a deliberate check to determine machine type. I'm unable to at the moment "force feed" it into the Model B despite having a lot of sideways ram so I'd suspect its 'where' is being loaded that is the reason why its Master only for this. It may work on the B+ machine but I have not determined that yet.
The time starts at 7:00pm and advances very slowly.
The vast majority of the rooms found in the Spectrum and Amstrad version are present here with the noted exceptions of the cartography room and the 'Secret Passage' rooms.
Disc Content: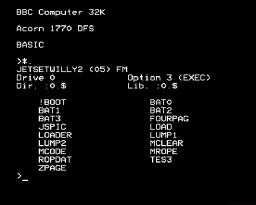 Loading Title: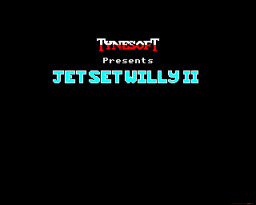 Title Screen: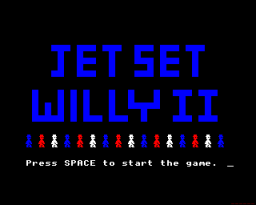 The scrolling message (identical between 'cut down' and 'full' versions) reads as follows:
Jetset Willy II was written by Chris Robson.....
Jet Set Willy II was prepared by Tynesoft under licence from Software Projects and is copyright to Software Projects.....
You must guide Willy to collect all the items around the house before midnight so that Maria will let him go to bed......
Press SPACE to start the game
The typo's present in the 'cut down' and Electron version are also present where said rooms are present in those versions too:
Coservatory Roof: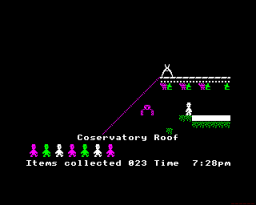 Dinking Vater: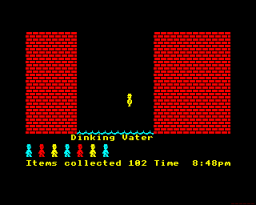 Nomem Luni:
Onwards with the screenshots: